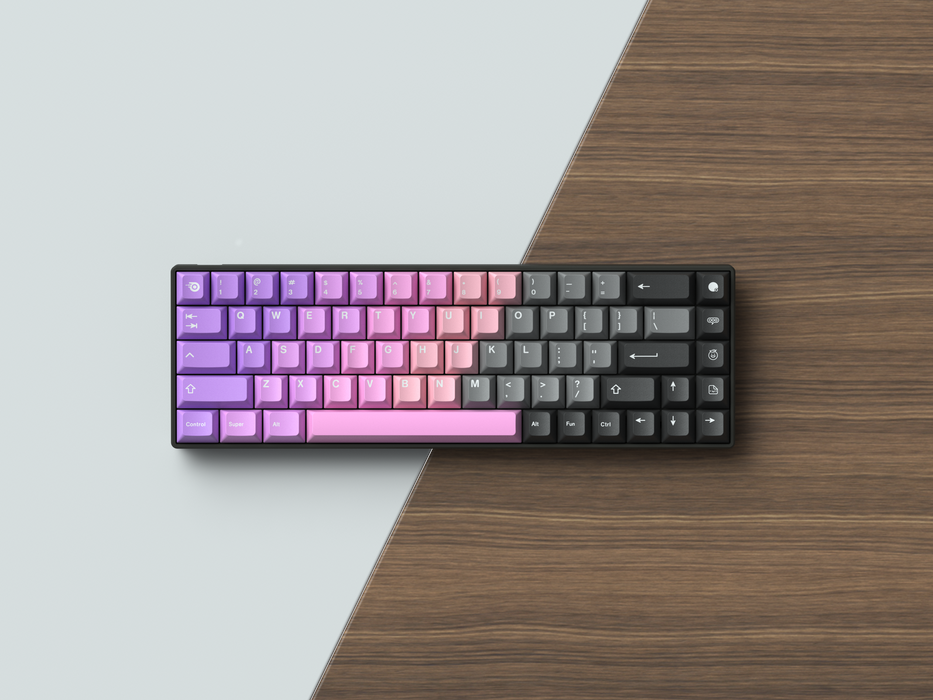 Discord Go Nitro Mechanical Keyboard
Original price
$30.00
-
Original price
$160.00
Strap rocket boosters to your setup with the Official Discord Go Nitro Keyboard. We partnered with Discord to create the ultimate 65% keyboard for gamers, programmers, and writers. The 65% keyboard is beloved for its compact footprint and minimal yet practical layout. The way the periwinkle-to-tangerine gradient spills across the keys is eye-catchingly asymmetrical. 
QMK programming expands your options when it comes to key customization and RGB underglow effects. Use QMK to utilize beautiful per-key LED backlighting with function layers, macros, reactive lighting effects, and so much more. The hot-swappable PCB expands the possibilities even further, allowing you to mix and match switches without the need to solder.
We picked a well rounded switch, Gateron Reds, a linear favorite for typing and gaming alike. These medium-light spring switches are great for long sessions with a smooth actuation that won't tire out your fingers.
PBT keycaps ensure the keycaps never develop shine and will last for years and years even through heavy use. The durable ABS plastic case is semi-translucent, providing a gentle underglow to whatever RGB effect you choose. The keyboard includes a set of Nitro-themed novelty keys including the beloved Discord mascots Clyde and Wumpus. 
Premium 4mm Deskmat
Thicker than standard deskmats, the 4mm deskmat provides more cushioning for a premium feel. Its stitched edge prevents fraying, while its amoeba pattern makes an eye-catching backdrop for your keyboard.
Included 
Discord Go Nitro Mechanical Keyboard
Nitro gradient PBT Keycap Set
EVA carry case with Nitro badge logo
Gateron Red Switches (Linear)
Color matched semi-translucent stabilizers
Black high-speed USB-C cable
Specifications
Layout: 65% (ANSI)
68 keys
PBT dye-sublimated keycaps
Gateron Red Switches (Linear)
Kailh hot-swappable switch sockets
Case material: semi-translucent ABS
Aluminum plate
PCB-mount screw-in stabilizers
Per-key white LED backlighting
RGB underglow
Connectivity: USB-C 
QMK programmable QMK/VIA Customization Guide
Deskmat Details
900x400mm
4mm thickness - extra thick for enhanced acoustics and durability
Cloth top, textured for high mouse precision and comfort

Stitched edge
Non-slip rubberized bottom
Machine washable