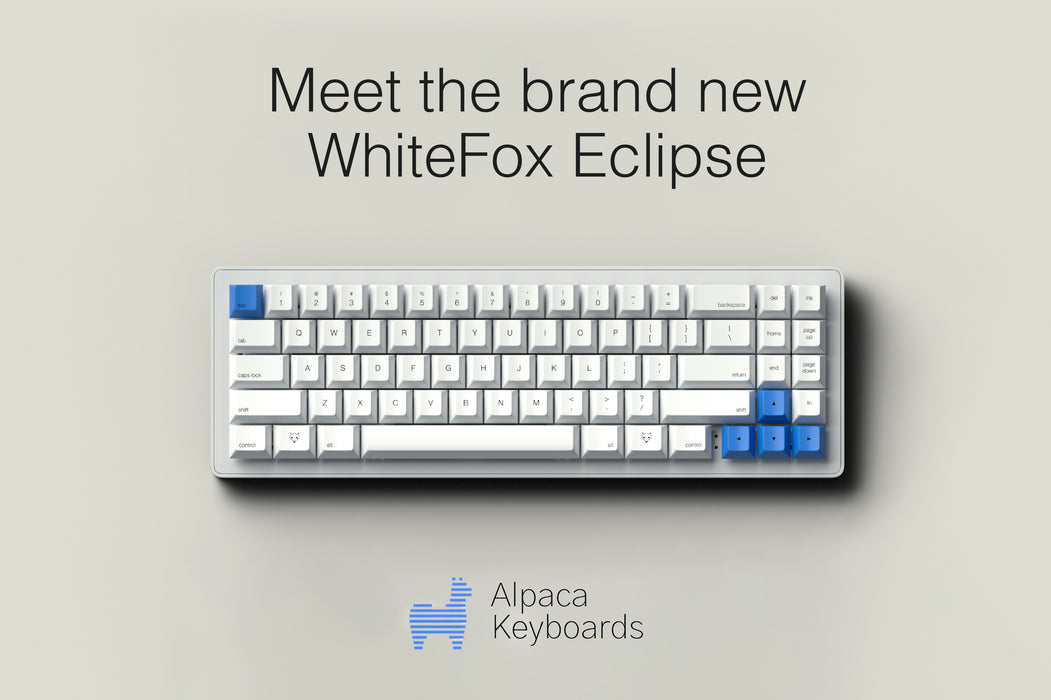 WhiteFox Eclipse Mechanical Keyboard
Pre-order
Original price
$130.00
-
Original price
$140.00
Checkout with Apos for free shipping to the US! Learn more here.
Note: This is a continuation of the successful Kickstarter. Estimated production completion and delivery is November 2023.

Orders for variants that include switches will all come with Gateron Yellow Switches (linear).

Check out the CNC aluminum case options for the WhiteFox Eclipse.
The WhiteFox Eclipse

Introducing the WhiteFox Eclipse! The sequel to the first WhiteFox Mechanical Keyboard, now with Bluetooth 5.0, Hot-Swap, Magnetic Removable Feet, Flexible Top Plate, QMK/VIA compatibility and our brand new Magnetic Gasket Mounting System! This keyboard comes with both Windows and Mac modifiers as well as optional white keycaps to replace the blue arrow and escape keys.

WhiteFox Eclipse comes with a high quality hot-swappable plastic case (Standard Low Profile), and there are options for both high and low profile CNC aluminum versions!
Magnetic Assembly
Rubberized magnet gaskets make assembling and disassembling the WhiteFox Eclipse fast and simple. Simply align and click into place. It's never been easier to customize and maintain your keyboard, like lubricating stabilizers or clearing dust. This is especially useful if you choose one of the optional CNC Aluminum cases to back, as you can switch between cases easily.

68% keyboard
Accessibility and ease of use are key principles of our design philosophy. By redesigning the classic 65% layout and adding an extra column, we've standardized keycap sizes and ensured that you can use any keycap set available — without the need for non-standard keycap sizes (No need for a short right shift)!  This makes aftermarket customization a breeze, allowing you to personalize your keyboard without needing to worry about whether the keycaps will fit your board.
Customize keys, macros, and layers
VIA with QMK firmware gives you total control over your keyboard, allowing you to remap keys, create layers, and set up macros — all without needing to reflash firmware! Save time by creating macros, or optimize layers for different situations, such as gaming and programming.
Bluetooth
With wireless functionality and multi-device pairing, the WhiteFox Eclipse is at home in any workspace. Connect to your PC at work for the ultimate minimalist desk experience; your personal Mac and tablet at home; and your phone in a hotel room to give you full typing productivity on the go. The WhiteFox Eclipse has a 4000 mAh battery and should last around 10 days between charges, though the time is cut dramatically if backlighting is used. 
PBT Keycaps
The Cherry Profile PBT keycaps on the WhiteFox Eclipse are designed with quality and durability in mind. Their material offers a much longer lifespan than ABS keycaps and features a textured surface that is resistant to shine and wear. Its crisp,  custom legends will never fade even after years of heavy use.
Hot-swappable
Customize your typing experience by hot-swapping any switch, including popular brands like Cherry, Gateron, Kailh, and community favorites like Holy Pandas. With this feature, you can quickly and easily customize your keyboard to your preferences without any soldering. Gateron Yellow Linear switches are included by default in this product.
Flex Plate
By incorporating a flex plate, we make sure that the force of your keystrokes is evenly distributed across the switches, resulting in a stable and satisfying feel. The plate is specifically designed to match the PCB in flexibility, providing greater stability for each switch and enhancing your overall typing experience.
Double Gasket Mounted
Typing for an extended period of time can be a strain on your hands and fingers. That's why we designed the WhiteFox Eclipse as the first keyboard with magnetic gaskets that provide a softer, more cushioned feel when typing, that when combined with our flex plate and PCB keeps the keyboard comfortable even after extended periods of use. 
Noise-reducing Foam
Two layers of foam work together to absorb the sound produced by the switches, making the WhiteFox Eclipse perfect for use in shared workspaces or other quiet environments where noise could be a distraction. These also act as an additional tactile dampener, reducing bottom-out impact and increasing ergonomics and typing feel.
Made for Mac and Windows
Whether you use Mac, Windows, or both, the WhiteFox Eclipse is the perfect solution for anyone needing a versatile keyboard that can handle multiple operating systems. The keyboard includes keycaps labeled for both systems, so you won't have to worry about compatibility issues. Plus, you'll get full control over the layout customization for both systems, making it easy to customize your keyboard to suit your needs.
Seamless Design
The clean lines and uninterrupted design create a streamlined appearance that's both stylish and functional. Not only does the WhiteFox Eclipse look great, the magnetic assembly of the keyboard makes it easy to use and customize, while removing all visible screws! The Eclipse's frame and outer case are designed with high quality and long-lasting materials, with a clean matte finish!
RGB LED Lighting
The south-facing per-key RGB LEDs on the top, paired with the underglow at the bottom, create a dazzling ambience. Choose from a wide range of colors and lighting effects to create a personalized look that matches your style or mood. Take full control of your lighting customization — or turn them completely off!
Hardware Specifications
Keycaps

- Cherry Profile PBT Dye Sublimated (1.5mm Thick)
Mechanical Switches - Pre-Lubed Gateron Yellow Linear Switches
Flex Plate - Aluminum with QWERTY Cluster Cutouts for Maximum Flex
Edge Gasket - Vibration Isolating Case Gasket

Switch Foam

- Poron Foam for Switch Sound Dampening

Custom PCB

- PCB with Hot Swap, South Facing SMD LEDs, and Bluetooth

Case Foam

- An extra Foam Layer for Extra Sound Dampening

Magnetic Gaskets

- Vibration Isolated Magnets to Connect Switch Assembly to Case

Magnetic Case

- Injection Molded or CNC Aluminum Magnetic Case (Low or Hi Profile)

Magnetic Feet

- Optional Magnetic Cone Feet for 6.5 Degree Tilt

Additional Specifications
USB-C Mechanical Keyboard
Gateron Yellow KS9 Pro 2.0 (50g Linear)
PCB Mount Pre-Lubed Stabilizers
Wired (USB-C) or Wireless (Bluetooth 5.0) Keyboard
4000 mAh Battery
Compatible with Mac, Windows, and Linux
VIA / QMK Firmware
Configurable with Macros for gaming and typing
Keycaps for Mac and PC Layouts with Blue Novelties