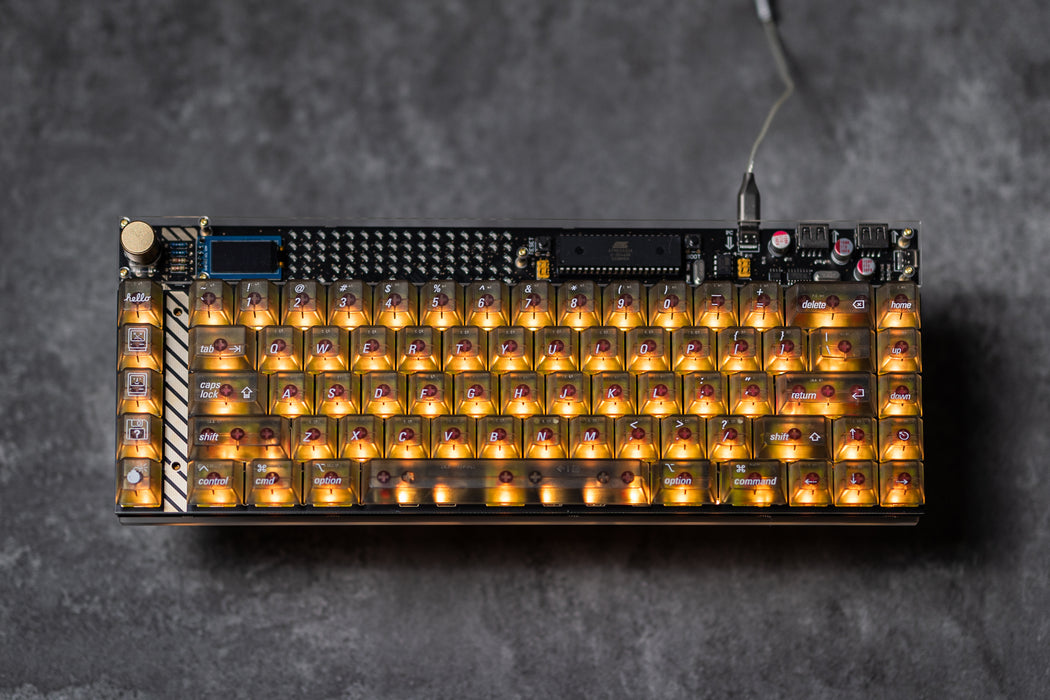 LELELAB Y2K 76 Mechanical Keyboard Kit
Sold out
Original price
$84.99
-
Original price
$84.99
Note: This was a Group Buy that launched April 20 and closed May 22. Please check the Weekly Updates page for current status of production.
Introducing the LELELAB Y2K 76, a distinctive mechanical keyboard kit from Lelelab that showcases the intricacies of its inner workings with a stunning see-through design. This innovative keyboard combines the charm of through-hole aesthetics with contemporary features, offering a unique and engaging keyboard experience for those who love to get the inside scoop. 
The Y2K 76 is packed with features, including hot-swappable switches, a multifunctional knob, and an LED screen. The USB hub offers two USB Type-A and one Type-C ports, while the suspension mount ensures effortless typing. The LED screen is packed with features like built-in temperature/humidity sensor, on-board WPM counter, pomodoro timer, and animations. Illuminate your setup with the side LED bars, bottom LED lights, backlighting switch LEDs, and front micro LED array. Layout and lighting are completely customizable with the Lele Console software, based on QMK/VIA.
This comprehensive kit includes a PCB with pre-soldered components, FR4 plate, 3mm clear acrylic top plate, 5mm frosted acrylic base, and 5mm frosted acrylic stand piece. The LED screen, EC11 encoder, spring posts, and gold aluminum knob cap provide a high-quality finish. The package also contains silicone feet, various screws, knurled nut stands, and a dedicated connection cable for hassle-free assembly. Please note that this keyboard kit does NOT include keycaps or switches.
The keyboard has a clear, see-through design. You can experience the joy of peering at the electronic components within. 
Y2K 76 is an interesting take on the through-hole mechanical keyboard kits from Lelelab. Intergrating the unique aesthetics of a through-hole design and modern keyboard trends and adding useful gimmicks, Y2K 76 will bring you an one of a kind super fun custom keyboard experience at an affordable price.
Features
Through-hole aesthetics

Hotswappable

Knob

LED screen

USB hub functionality with 2 USB Type-A and 1 Type-C ports

Suspension mount

Built-in temperature/humidity sensor

On-board WPM counter, pomodoro timer, and animations

Side LED bars, bottom LED lights, backlighting switch LEDs, front micro LED array

Programmable via

Lele Console

based on QMK or VIA
Keyboard Kit includes:
This keyboard kit does NOT include Keycaps or Switches
PCB (all components have been soldered, hotswappable) x 1

FR4 plate x 1 sheet

3mm clear acrylic top plate x 1

5mm frosted acrylic base x 1

5mm frosted acrylic stand piece x 1

LED screen x 1

EC11 encoder x 1

Spring posts (120g) x 16

Gold aluminum knob cap x 1

Silicone feet x 4

M2*4 screws x 32

M2*6 screws x 7

M2*9+3 knurled nut stand x 7

Dedicated connection cable