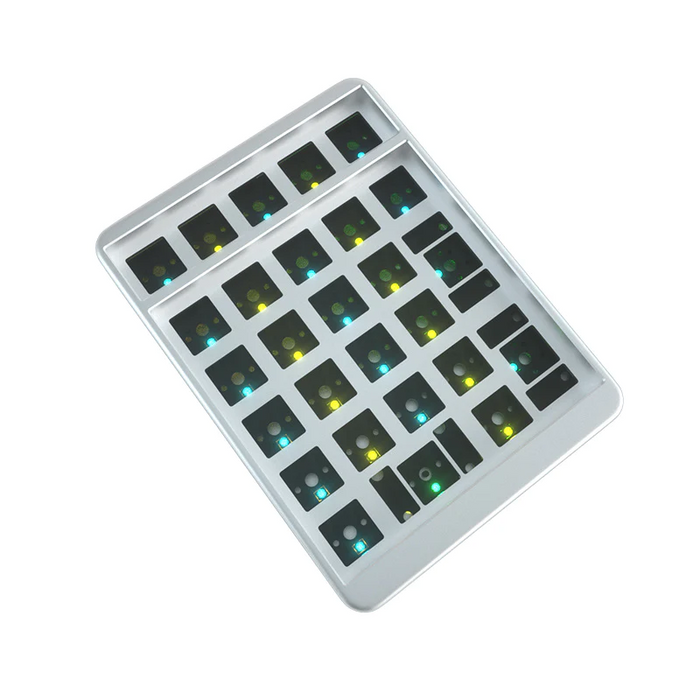 IDOBAO Montex Numpad Kit - RGB, Hot Swap
Original price
$79.99
-
Original price
$79.99
The Montex Pad is an exquisitely small numpad armed with 27 keys, including a keypad and function keys. With six color options and a hot-swappable PCB, it's a great "sidecar" addition to a compact keyboard, especially for people who only need a numpad every once in a while. 

The hot-swappable PCB supports 3-pin or 5-pin mechanical switches without the need to solder them in place. With full QMK and VIA support, each and every key can be programmed and remapped with ease. The open source firmware offers endless possibilities for layouts, shortcuts, backlight effects, and more. The "south-facing" RGB per key backlights are designed to provide more light than traditional backlights, even when non-shine-through keycaps are installed.
All-new screw-in stabilizers are more stable and less wobbly than older designs, creating a much smoother experience when using the "big keys" (space bar, shift, enter, delete). Third party stabilizers (such as Cherry and Durock) are also supported. The aluminum case is a huge improvement over plastic cases, because it's stronger, sleeker, but not detrimentally heavier. Connect the board to your Mac or Windows PC via high-speed USB-C cable for a fast and stable experience. 
included
This kit does not include switches or keycaps. Check out the options in our Switch Collection and Keycap Sets Collection to complete your board!
1 x Top Case (Aluminum)
1 x Bottom case (Aluminum)
1 x Kailh hot-swap PCBA
6 x Hexagon socket screws (M2x5)
7 x Gold-plated cross screw (M2x4)
1 x Electric resistance
3 x Stabilizers
1 x USB Type-C cable
1 x Silicone rubber foot pads
1 x Hexagon screwdriver (H1.5mm)
1 x Sound dampening foam
details
Case material: Aluminum
Angle: 6 degrees
Hot swap PCB (Kailh hot-swap sockets)
South-facing RGB
Compatible with screw-in stabilizers
Dimensions: 4" width x 5.37" length (10.3 cm width x 13.65 cm length)
Connectivity: USB-C
QMK/VIA programmable