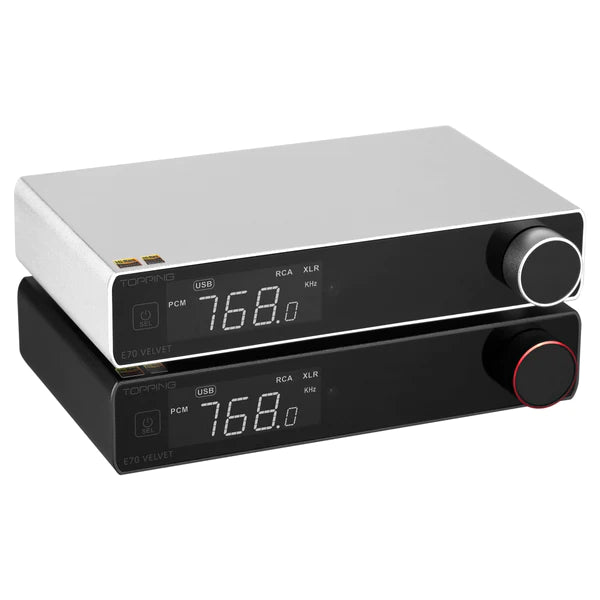 TOPPING E70 VELVET AK4499EX Desktop DAC (Digital-to-Analog-Convertor)
Original price
$449.00
-
Original price
$449.00
Kono is partnering with Apos Audio to expand our offering into audio products! 
The all-new AKM flagship
Take your listening to the next level with the E70 Velvet, a desktop DAC that features the flagship AKM AK4499EX DAC chip. Designed to pair perfectly with the TOPPING L70 Fully Balanced NFCA Headphone Amplifier, it decodes Bluetooth and USB audio at the highest levels available. 
As if you were there
The newly designed AK4499EX flagship DAC chip uses a completely separate digital/analog solution to achieve sound "as if you were there". 
24-bit Bluetooth
Enjoy hi-def Bluetooth 5.1 and the latest wireless codecs: LDAC, AAC, SBC, aptX, aptX LL, aptX HD, and aptX Adaptive. The E70 bypasses the built-in DAC functionality of the Bluetooth chip and uses the AK449EX instead, ensuring the absolute best sound quality. 
Latest USB controller
The USB input of E70 VELVET has a wide range of compatibility: Windows 10, Windows 11, MAC, Linux, IS, Android can all be plugged and played. 
12V trigger interface 
The E70 VELVET is equipped with a 12V Trigger interface, which has both active control (Trigger out) and passive control (Trigger in). With only one easy-to-obtain 3.5mm to 3.5mm cable, the E70 VELVET can be turned on and off synchronously with other devices equipped with a 12V Trigger interface. 
Selectable output port
The E70 features an output selection button with options for "XLR only," "RCA only," and "XLR + RCA." This last option lets you run cables to two different destinations, such as a headphone amp and powered monitors, and listen to either without having to do the cable shuffle.
Put it in preamp mode
Put the E70 in preamplifier mode and control the output volume from -99dB to 0dB by the knob or remote control. This gives you a massive power advantage when using power amplifiers or monitor speakers.

Product highlights
XMOS XU316

Bluetooth 5.1 LDAC transmission

THD+N: <0.00006%

AK449EX Velvet Sound Verita DAC chip

Selectable RCA & XLR outputs

Low-noise voltage reference power supply 

Auto on/off function

Ultra-low-noise preamp

Remote control
Specs
USB IN

PCM: 44.1kHz - 768kHz/ 16bit - 32bit

DSD (Native): DSD64 - DSD512

DSD(DoP): DSD64 - DSD256

COAX/OPT IN: 

PCM: 44.1kHz - 192kHz/ 16bit - 24bit

BT IN: 

AAC/SBC/APTX/APTX LL/APTX HD/APTX-Adaptive/LDAC

RCA parameters

THD+N (A-wt): <0.00008% @1kHZ

THD @90kBw (No-wt): <0.0002% @20-20kHz

SNR (A-wt): 125dB @1kHZ

Dynamic range (A-wt): 125dB @1kHZ

Frequency Response

20Hz-40kHz(‡0.3dB)

20Hz-40kHz (‡1.0dB)

Output Level

2.1Vrms @OdBFS(4V Mode)

2.5Vrms @OdBFS(5V Mode)

Noise (A-wt): <1.3uVrms

Channel Crosstalk: -130dB @1kHZ

Channel Balance: 0. 3dB

Output Impedance: 50Ω

XLR parameters

THD+N (A-wt): <0.00006% @1kHZ

THD @90kBw (No-wt): <0.0002% @20-20kHz

SNR (A-wt): 131dB @1kHZ

Dynamic range (A-wt): 131dB @1kHZ

Frequency Response

20Hz-40kHz(‡0.2dB)

20Hz-40kHz (‡0.8dB)

Output Level

4.2Vrms @OdBFS(4V Mode)

5.0Vrms @OdBFS(5V Mode)

Noise (A-wt): <1.3uVrms

Channel Crosstalk: -143dB @1kHZ

Channel Balance: 0. 3dB

Output Impedance: 100Ω
What's included
TOPPING E70 Velvet

Remote control

USB cable

AC cable

Bluetooth antenna

User manual

Warranty card