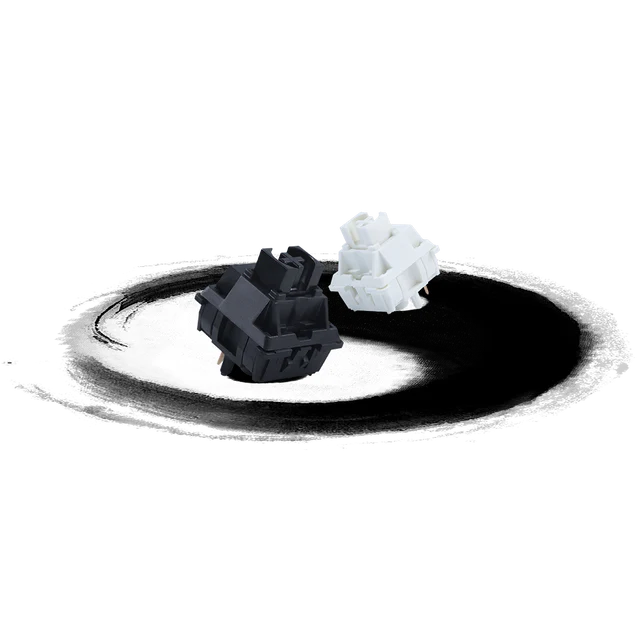 OUTVA Yin & Yang Switches (10 ct.)
Sold out
Original price
$4.99
-
Original price
$4.99
Note: This was a group buy that launched January 17 and ended February 20. Estimated delivery date to customers is Q2 2023. 
Yin (black) is a tactile mechanical keyboard switch that represents shadow, water, and weightiness. Fittingly, it has a heavy operating force of 65±10gf, making it ideal for gamers or heavy typists who want a distinct press and less typos when keyboarding at high speed.
Yang (white) is Yin's opposite. This linear mechanical keyboard switch represents light, fire, and weightlessness. With a medium operating force of 46±10gf, it'll help you breeze your way through games, or keep your fingers fresh after long hours of writing code or text.
It's only fitting that two switches representing eternal forces should be made of long-lasting materials. The cases are made of high-strength, high-resistance nylon. The shafts are made of POM, a low friction plastic that offers scratch-free action. The internals are made of highly conductive copper alloy with superior corrosion resistance. And to ensure instantaneous accuracy, the contacts are gold-plated for ultra-low electrical resistance and super high conductivity.
Yin (black)
10-switches per pack
5-pin PCB mount
compatible with Cherry MX-mount keycap sets
Switch type: Tactile
Operating force: 65

±10gf

End force: 60±10gf

Pre Travel: 2.0±0.4mm

Full Travel: 3.5±0.4mm

Base material: Nylon
Cover material: Nylon
Stem: POM
Spring length: 15mm spring
Yang (white)
10-switches per pack
5-pin PCB mount
compatible with Cherry MX-mount keycap sets
Switch type: Linear
Operating force: 46

±10gf

End force: 58±10gf

Pre Travel: 2.0±0.4mm

Full Travel: 3.7±0.4mm

Base material: Nylon
Cover material: Nylon
Stem: POM
Spring Length: 15mm spring