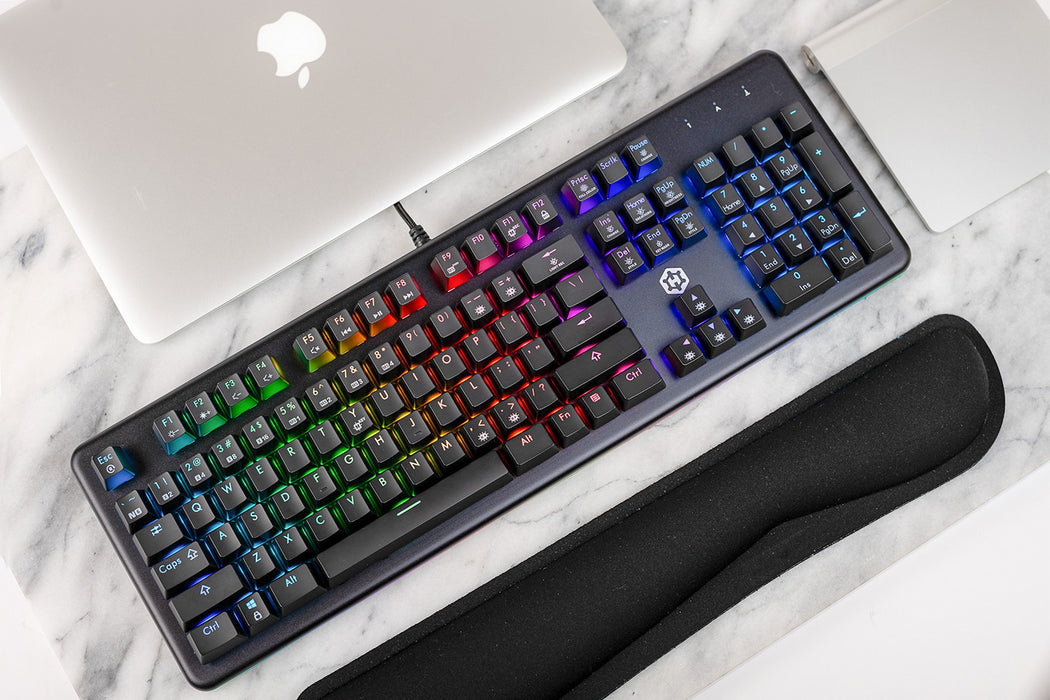 Hexgears Supernova - Metal RGB Mechanical Keyboard
Sold out
Original price
$99.99
-
Original price
$109.99
Get metal, and don't settle for less. The full size Supernova Mechanical Keyboard packs a machined aluminum chassis and stunning RGB lighting at a budget-friendly price point. It's a luxurious, high performance gaming keyboard for everyone.
Interested in other keyboard layouts and styles?
Check out our newest wireless keyboard on Kickstarter, the Venture!
You can also find Hexgears products on Amazon and Kono Store.
stylish and durable
The Hexgears Supernova uses machined anodized aluminum for its upper and lower case — a huge improvement over big-brand offerings that use cheap ABS plastic for lower shells. The Supernova's consistent, pleasant finish and serious heft anchor it on your desk. Flex and creak, which affect keyboards with cheap materials, are nonexistent while typing. Our designers also took care to use a refined font for the Supernova's letters, avoiding the edgy gamerfont that plagues so many keycaps. Other affordable keyboards simply can't match the Supernova's unique aesthetic and remarkable build quality.
Looking for a smaller tenkeyless keyboard? View the Hexgears Nova!
dynamic rgb lighting
The Supernova is inspired by flagship design cues in the mechanical keyboard industry. It contains the first truly affordable, yet buttery smooth, RGB ring lighting implementation in a metal mechanical keyboard. Numerous per-key backlighting modes and shine through keycaps, which respond to onboard function layer controls, help the Supernova match your battlestation. Hexgears' engineers designed the ring light and keycaps to look good at all times — they're subtly cool even when the backlighting is off.
mechanical kailh box switches
Kailh Box switches are rated for 80 million presses — significantly above the industry standard. They come equipped with drainage ports and self-cleaning assemblies to ensure long lifetimes. Box switches also feel excellent, as they're less wobbly and noticeably smoother than standard models. Tactile Box switches result in quiet mechanical keyboards when compared with competing designs, but the clicky versions go all out.
Clicky Box switches use a revolutionary click mechanism, the click bar, to create their signature noise. Click bars provide a cleaner click than Cherry MX-style mechanisms, which tend to rattle. They also have a nicer tactile response — see this guide to learn more.
customization options
The Supernova is designed to be a plug and play device. Its feature set offers exactly what you need to get up and running fast. Angle adjustment feet help match your preferences. In addition, basic onboard functions like Windows key locking enhance your gaming experience.
details:
Full size layout

RGB backlighting and ring lighting

Per-key customizable lighting modes (via keyboard function layer)

ABS shine through keycaps

Full metal body (Black, Grey, Blue)

Kailh Box Brown (Tactile), Box White (Clicky), or Hako Clear (Heavy Tactile) Mechanical Keyboard Switches

Weight: 1178g
Are you a top-ranked gamer, team rep, or reviewer?
We want to share our awesome hardware with gamers and reviewers. Hexgears thinks that the Impulse is a perfect Battle Royale and MOBA keyboard for titles like Fortnite, Apex Legends, and League of Legends — and that it will work great for other popular Esports titles as well. Just reach out via support@kono.store with your info so we can discuss the possibilities.