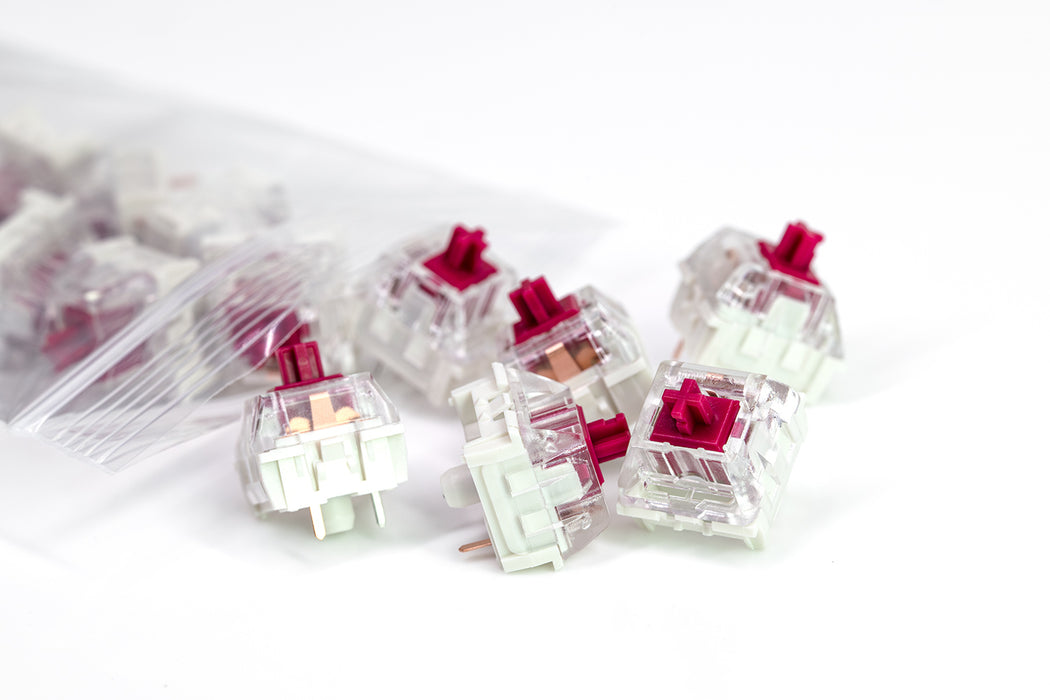 Kailh Pro Switches
Original price
$2.80
-
Original price
$2.80
Kailh Pro switches feature a cushioned stroke, springy return, and earlier activation than most industry standard switches. They're also a little bit heavier than Cherry equivalents that effectively force keystroke bottom out. That makes Pro switches a compelling choice for gamers and typists who want a responsive, but minimally fatiguing, keyboard.
pro purple (tactile)
Pro Purples offer medium spring resistance and Kailh's take on an ergonomic tactile response. They're a potential upgrade path for people who like MX Browns, especially in mixed use scenarios. The Pros are more responsive in games and offer better bottom out performance for daily typists.
pro light green (clicky + tactile)
Looking for a professional clicky switch? The Pro Light Green offers a soft, comfortably tactile keystroke and a muted click that might be OK for some office settings. Maybe. As an added bonus, you don't need to press as far down to activate these switches.
pro burgundy (linear)
Pro Burgundies offer a nice compromise between linear Kailh Speed switches and standard models. Their early activation point might prove useful in time critical reflex-limited applications, like rhythm game macropads and audio control interfaces. Or you can use them in a keyboard.

specifications
Kailh Pro Burgundy – Linear 50g | 1.7mm | 3.6mm (operating force | activation | total travel)
Kailh Pro Purple – Tactile 50g | 1.7mm | 3.6mm

(operating force | activation | total travel)

Kailh Pro Light Green

 

– Clicky 50g | 1.7mm | 3.6mm

(operating force | activation | total travel)
details
10 switches per pack

Plate Mount

Light resistance: 50 gram manufacturer rated activation point

Through-hole and SMD LED compatible

Hot-swap compatible (plate mount)

Compatible with Cherry MX-mount keycap sets