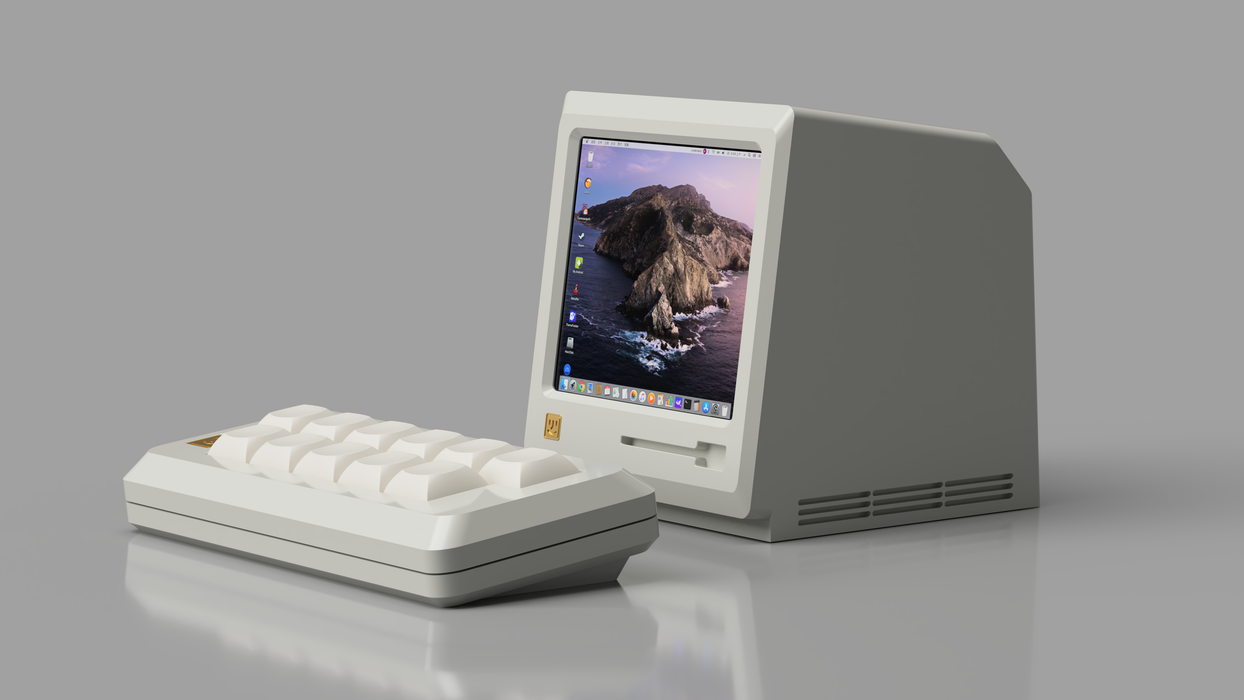 VE & C11 - Micro Monitor & Macro Pad by Cary_Works
Sold out
Original price
$24.99
-
Original price
$349.99
C11 Macro Pad does not come with switches or keycaps. Please see our switch and keycap collections. For reprogramming C11, download the C11 VIA JSON and use VIA.
VE - Display



VE, or Viewedge, is a fully functional mini display. Connect by HDMI to compatible devices for a great conversation piece and explore some of the many uses:
Electronic photo album

Video player

Performance monitoring

Clock & Weather

Reminders & Calendar


Decoration
C11 - Macro Pad Keyboard
The C11 is based on the M0110, the keyboard that came with the original Macintosh, and is a tribute to the original Mac in the same style as the viewedge (another of the author's design). The design takes into account the current aesthetic and creates a more practical, ultra-mini keyboard. Cary_works is a custom keyboard studio from China whose tribute series (the DCR keyboard to IBM and the VC mini-monitor to Apple M0001) have gained good sales and reputation for their design and workmanship.



ViewEdge Details
Super Mini Size Monitor

Inspired by the original Macintosh
High Quality OLED Screen
Copper base counterweight and nameplate 
Packaged in an Ammunition Style Box 
Designer: Cary Works
ViewEdge Specifications
Screen Type: AM-OLED
Screen Size: 3.81
Resolution: 1200*1080, 423PPI
Pixel arrangement: vertical RGB strip arrangement
Color gamut: 100% sRGB
Frame rate: 90Hz
Overall Dimensions: 93mm*100mm*105mm
Power Interface: USB Type-C
Signal Interface: Standard HDMI
Materials Used: 

Aluminum Parts: 6063 Aviation-Grade Aluminum
Copper Parts: C36700 Brass

Surface Finish: 

Copper Parts: Transparent plating, anti-oxidation
White Parts: EP-White

Compatibility: Intel Core Graphics, Nvidia & AMD graphics, MAC/WIN OS 
NOT Compatible: AMD Core Graphics, PS, XBOX, NS and other host devices
Produced by ALE
C11 Keyboard Details
Ultra-mini Hot-Swap Keyboard
Inspired by the Apple M0110 
Items Included: Case, PCB, 3U Satellite Shaft Wire
Packaged in an Ammunition Style Box 
Designer: Cary Works
C11 Specifications
Overall Dimension: 138mm*64mm*25mm

Typing Angle:  7°
Materials Used:

Case: 6062 Aluminum
Name Plate: C36700 Brass

Surface Finish:

Case: EP (electrophoresis) Black/EP White
Name Plate: PVD

Interface: USB Type-C
Hot-swap switch sockets
PCB: QMK compatible/VIA support
Battery Capacity: 800mAH
Bluetooth: 5.0 (can switch between 2 connected devices)
Lighting: RGB
PCB Satellite Shaft
Produced by ALE

C11 Blank Name Plate
C11 Hotswap PCB Layout: