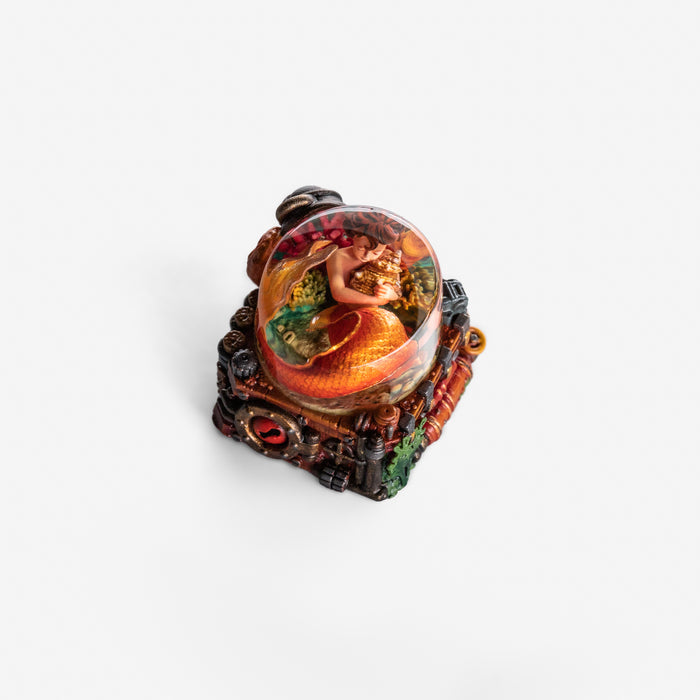 Dwarf Factory - The Seacrets Artisan Keycaps
Sold out
Original price
$55.00
-
Original price
$65.00
Explore an underwater legacy with Dwarf Factory's The Seacrets artisan keycaps. Deep beneath the waves live slumbering mermaids, living fossils, and magic-wielding kraken-and now you can display them on your very own keyboard. These resin keycaps are meticulously hand-painted with incredible brushwork that brings every seashell and sprocket to life. 

Compatible with Cherry MX switches and clones, each character fits in their own unique space. The Mermaid will feel right at home on any 1u-sized key like Escape. The C.U.A. (Crab Under Atlantic) enjoys 1.5u-sized keys like Tab. The key-wielding Ha Gao prefers 1.75u-sized keys like Caps Lock. The Krake wields his magic from 2.25u-sized keys like Enter. The Nautilux, living deep on the ocean floor, thrives on 1.25u-sized keys like Ctrl, Window, and Alt.
Each keycap is made of long-lasting and scratch-resistant resin, guaranteeing their ability to live in highly-pressurized environments like the ocean floor or your keyboard during intense moments.
details
Designed and manufactured by Dwarf Factory
Material: Hand-painted with resin cover
Sizes: 1u, 1.25u (Ctrl, Window, Alt), 1.5u (TAB, 1.75u - Capslock) 2.25u (Enter, Left Shift)

Compatibility: standard Cherry MX switches and MX-style clones