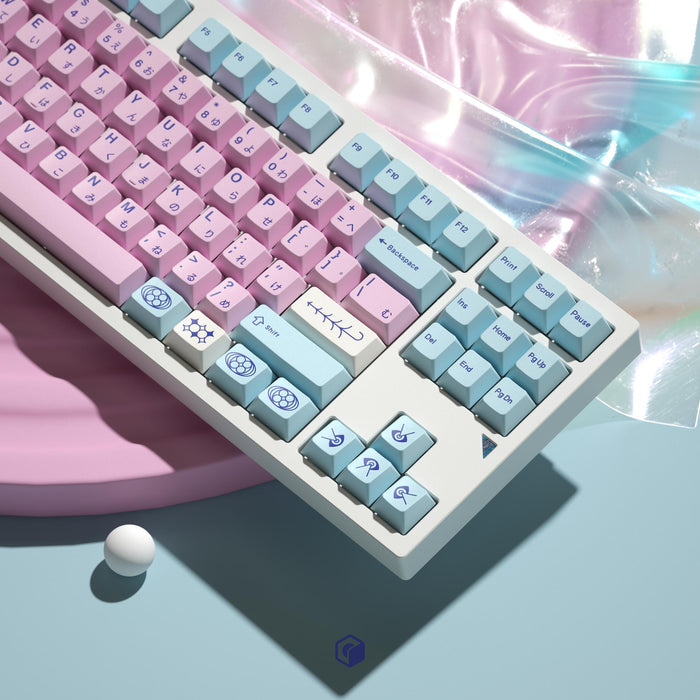 ePBT Acid House & Sweet Girl
Original price
$9.99
-
Original price
$139.99
Checkout with Apos for free shipping to the US! Learn more here.
Inspired by acid art, Acid House & Sweet Girl is eye candy of the highest degree. Pump up your energy with wholesome pinks and blues, with ample kits and novelties to deck out your favorite boards!

Experience the full look with the matching D60 LITE X ePBT Acid House 60% WK Keyboard, or accent any Type-C board with the Acid House Aviator cable!
details
Cherry Profile (1-1-2-3-4-4)
Dye-sub 
Manufacturer:  enjoyPBT
Designed By YorkChan
Type-C to A Coiled Aviator Cable

Coil shrink color: Matching Gradient Polyolefin
Host cable shrink color: White Polyolefin
Detachable connector: Aviator (5 pins)
Total cable length: ~106cm (1% variance)
Coil length: 18cm
Outer coil diameter: 25mm
Manufactured by KBDFans
D60 Lite Keyboard Kit
Keycaps and switches not included
Structure: Gasket mount
Layout: 60% WK/HHKB
Designers: KBDfans Wei ( D60lite );

 

YorkChan

 

(EPBT ACID HOUSE & SWEET GIRL)
Specs

PCB:

 

DZ60RGB-WKL/DZ60RGB ANSI V2, RGB hot-swappable PCB (VIA supportable, Type-C, support Windows, Mac, Linux)
Plate:

 

Polycarbonate
Stabilizers: KBDfans transparent stabs
Gasket:

 

2 sets of gaskets, injection-molded silicone gaskets, foam gaskets
Switch foam:

With

switch holes
Bottom silicone pad: Tightly fitted. Compared with kbd67lite, it is a newly added configuration.
Case:

 

PC+ABS material, using an injection molding process, the surface is matte, opaque
USB-C Cable
Colors:

 

color matched with ePBT Acid House & Sweet girl
Typing angle:

 

6°
Structure: Gasket mount
Designers: KBDfans Wei (D60lite);

 

YorkChan

 

(ePBT Acid House & Sweet Girl)