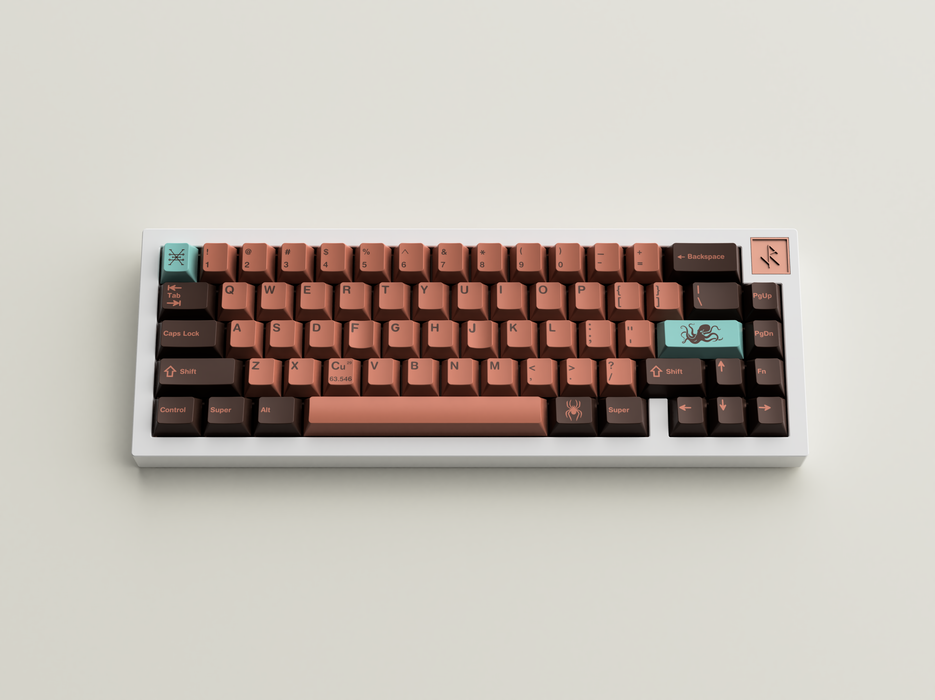 GMK Copper
Sold out
Original price
$19.99
-
Original price
$199.99
GMK Copper is the ultimate crossover collectible, unifying the colorway of humble coinage with statues and patina. Its art deco aesthetics and scientific references pay homage to Cu. Make your desktop a monument to electrochemistry with this thought-provoking keycap set. 

metallic evolution
Copper is, perhaps, the most vital metal in the modern world. After serving in primitive tools for thousands of years, it now shuttles electrons to power our devices. It's used in artistic and industrial alloys, including bronze. Copper-themed decor seems natural and respectful with that in mind.
expressing nature
This malleable metal is not limited to human usage. It pumps through the veins of octopi, as iron-based blood doesn't work efficiently in the deep ocean. Patina, which can be found on Lady Liberty's cladding, marks another organic expression of the material. Wherever there is copper, there is beauty.
artisans and deskmats
Spectacular sealed metal patina artisans are available from Salvun. Each artisan keycap will have a unique patina pattern. These are available in 3 styles, the alchemy symbol, the chemical symbol, and a blank cap. Beautiful deskmats are also available!
details
Doubleshot ABS Plastic
Cherry Profile
Produced by GMK

Deskmats: 900 x 400 x 3mm, stitched edge, non-slip rubberized bottom

Novelties by Salvun
Designed by fatboycarney