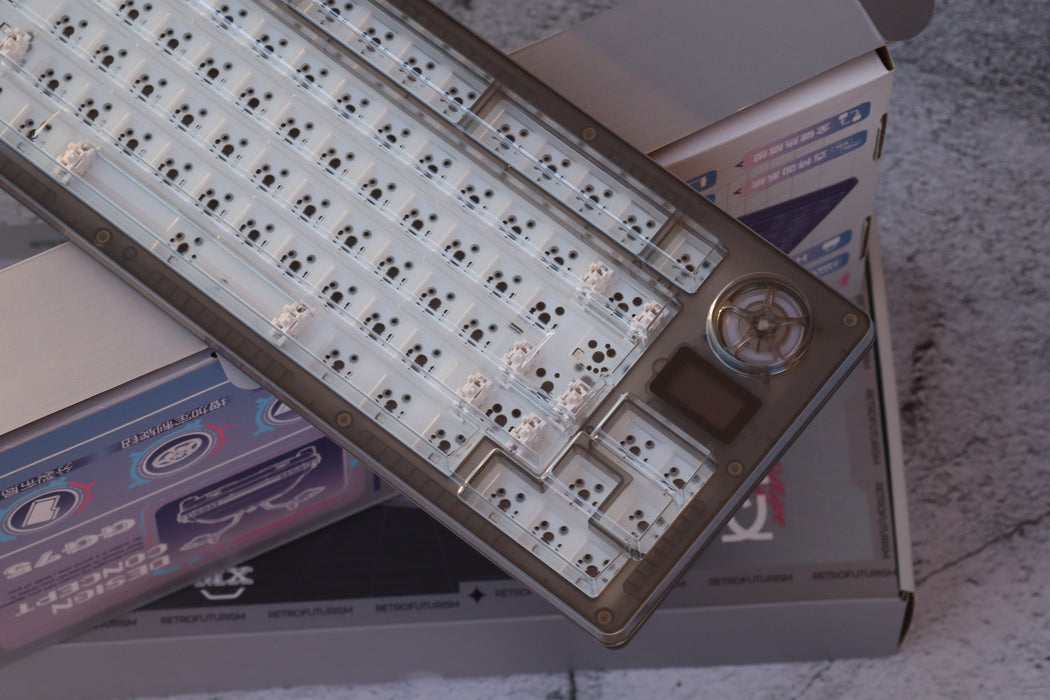 Gopolar GG75 Mechanical Keyboard Kit
Sold out
Original price
$89.99
-
Original price
$89.99
Note: This was a group buy that launched January 19 and ended February 20. Please check the Weekly Updates page for current status of production.
"The way I see it, if you're gonna build a time machine into a car, why not do it with some style?" As Doc Brown did his iconic 1981 DeLorean,  so Gopolar has done with their GG75 Keyboard. This retro-futuristic keyboard features a programmable rotary knob, a programmable OLED screen, and enough LEDs to light up a mall parking lot... or your desk.
With a compact 80-key layout, the GG75 makes for an easy travel companion, no matter if you're traveling to the present, future, or past. Use the powerful VIA configurator to program the rotary knob, LEDs, and OLED screen with an endless number of functions, animations, and reactions. Take advantage of the hot-swappable PCB to home in on your ideal switch experience. 
Time-traveling coupes and keyboards should expect some wear and tear, and the GG75 is prepared with a durable retro ABS plastic translucent case. A polycarbonate backplate absorbs more sound than a metal backplate, resulting in a more muted sound profile. Like the shock absorbers on the DeLorean, the GG75 uses a gasket mount between the plate and keyboard housing, providing a cushioned feel and ultra-comfortable typing experience. 
Check out the paired Gopolar Azure Dragon Switches V2!
included
This kit does not include switches or keycaps. Check out the options in our Switch Collection and Keycap Sets Collection to complete your board!
1x PCB with OLED display
1x mute silicone layer
1x silicone dampener
1x PC stock plate
1x ABS case 
1x USB-C cable
4x 2u Plate stabilizers
1x 6.25u Plate stabilizers
Hexagonal screw crowbar (case opening tool)
Custom poron sponge
Keycap & Switch puller
details
Designed by Gopolar 
Choose between Transparent Black or Metallic Silver case colors
Number of keys: 80 keys
Body Material: ABS Plastic
Plate: PC
PCB: Hot-swappable (5 pin & 3 pin) South-facing
Slotted PCB
Backlight: South-facing RGB LED
Stabilizers: Unlubed plate in stabilizer made by Gopolar
Connectivity: Wired USB Type-C
Software: VIA (submitting code) 
Programmable OLED screen
Only supports 6.25u spacebar
Compatible with 5-pin & 3-pin switches
Width: 35.5cm 
Length: 14.5cm
Front Height: 1.9cm (without keycaps) 
Back Height: 3.5cm (without keycaps) 
Angle: 4.24
Weight: 740g