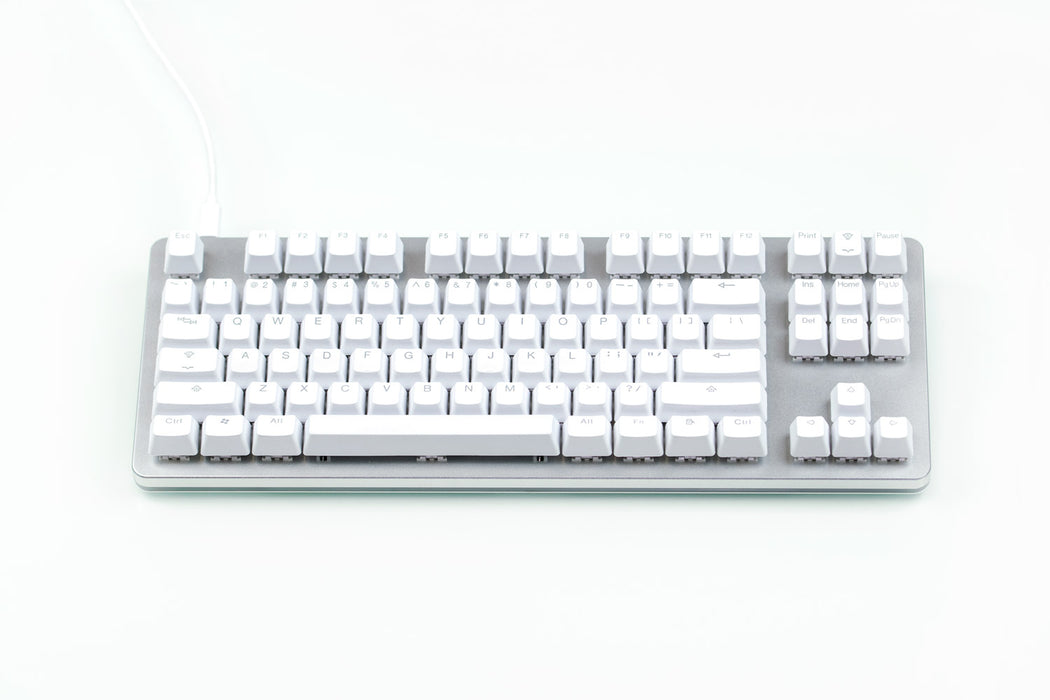 K-Type Mechanical Keyboard
Waitlist
Original price
$199.00
-
Original price
$199.00
See Hexgears' improved versions of the K-Type's open source design — the Gemini Dawn and Gemini Dusk! Available now.
The original K-Type is currently manufactured and fulfilled by Massdrop. This page exists solely to generate interest in similar projects on Kono Store, Input Club's current business partner.
After years of research and development, Input Club is proud to present the K-Type Mechanical Keyboard. I:C pulled out all the stops, adding all available top tier keyboard features into this functional work of art. The K-Type is a full-metal frame, RGB backlit and underlit, fully programmable, Open Source, USB Type C keyboard with the most advanced RGB capable, hot swappable mechanical keyswitches with doubleshot PBT backlit keycaps.
For information on how to program your keyboard - please visit https://github.com/kiibohd/controller/blob/master/Documentation/Keyboards/K-Type.md
The Frame
Input Club prefers objective marketing — it only uses materials based on their measurable properties. I:C selected aircraft grade aluminum for its high precision machining attributes and for its ability to hold a quality surface finish. Using a single block of metal to house the keyboard instead of cheap steel plate screwed into a plastic case provides the substantial weight and aesthetic I:C desired. Using aluminum to house the keyswitches will provide a certain degree of flex to the keypress, which was originally discovered by legendary keyboard designer Matteo Spinelli.
Keycaps
The keycaps for the K-Type were carefully selected from a high-end keyboard manufacturer, Vortex, known for their wildly popular Poker series of 60% keyboards. The material used to construct these keycaps is an engineering plastic known as Polybutylene Terephthalate or PBT for short. PBT has long been preferred by the mechanical keyboard community for its ability to resist the surface wear, or "shine," that occurs when finger oils and sweat come in contact with the more commonly used ABS plastic. The "doubleshot" construction style for these keycaps is the most durable and extremely long lasting technique available, and these keycaps will outlast nations.
Electrical Components
Input Club's circuitry designer spent months carefully selecting which multicolor RGB LEDs to use and which mechanical keyswitch would best pipe the light to illuminate the keys. He then developed custom firmware called the Keyboard Layout Language or KLL to give full control to the owner over the appearance of their keyboard as well as the functionality. I:C's hardware is all open source upon delivery, and our team works with engineers and software developers around the world to make sure that this keyboard has powerful programming capabilities.
Mechanical Switches
The K-Type is a mechanical keyboard, which means it uses mechanical switches instead of low-cost rubber dome technology present in most keyboards. What makes the K-Type distinct is that the switches are removable and replaceable, allowing anyone to customize or repair their keyboard with no soldering or engineering skills. If you don't like the carefully-selected switches in the K-Type, you can easily swap them out for your favorite style.
Programmable and Open Source
The K-Type is fully programmable, designed for user modification, and Open Source on Github. Input Club also added dual USB Type C connectors so that you can connect other products that the team develops such as a Number Pad or an ErgoDox half, or to simply choose which side to connect the cable from. If I:C's team left anything out from this keyboard, please feel free to let them know on a forum — they will be happy to take it into consideration for future models. This keyboard was heavily designed with feedback from the Mechanical Keyboard communities of Geekhack, Deskthority, and /r/mechanicalkeyboards. Special thanks go to Input Club's friends at Massdrop, Angelo Tobias, Matteo Spinelli, and Andrew Cook at Keychatter.
details:
Fully Programmable Keys
Doubleshot backlit PBT Keycaps
Aluminum Frame
Hotswap Switch Mounts
Acrylic / Resin Glowing Underlayer
Standard Tenkeyless Layout
Open Source Hardware
USB Type C Connector
Modified Cherry Style Stabilizers
Please visit http://ktype.link/manual for instructions on how to setup your K-Type Mechanical Keyboard.