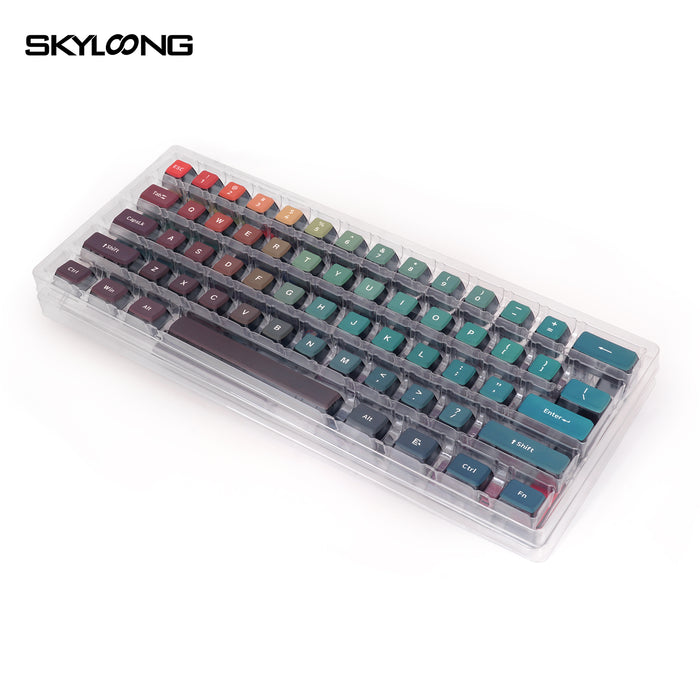 Skyloong Pudding Keycaps
Sold out
Original price
$34.99
-
Original price
$49.99
Note: This was a Group Buy/Pre-order. Current batch closed December 4. Estimated production completion is early January, with arrival early Q1 2023.
Check the Weekly Updates page for the status of previous batches.
These pudding keycaps provide a sleek and modern look to any keyboard. These gradient colorways from Skyloong are created with an advanced manufacturing process that combines multiple materials to create a beautiful and durable cap.
Choose from numerous color options, from stunning rainbows to formal gradient gray, to fit your favorite board and workspace. Included novelties and compatibility allows for further customization of your board.
With an advanced printing process, the legends are crisp and will not fade over time. The keycaps are made of a hybrid PBT top with an ABS transparent underside. This enables the enhanced texture, durability, and resistance to shine of PBT, while the ABS material allows the backlighting to shine through clearly. These pudding keycaps combine the best of both worlds without compromise.
GK7 profile keycaps are shorter and smoother compared to standard profiles like Cherry or OEM, and harken back to the smoother retro look of SA, without the taller height. The keycaps in the GK7 profile have a uniform height and a flat surface, making them smooth to type on and are less prone to accidental keystrokes. Their uniquely smooth profile and PBT texture makes them ideal for touch typists or gamers who need to feel the keys accurately and comfortably under their fingers.

details
Produced by Skyloong
PBT top and ABS underside materials
Pudding keycaps for enhanced lighting - translucent underside, solid top
Custom GK7 Profile, a mix between the roundness of SA and the standard proportions of Cherry
126 keys (Dark Tale 120 Keys), compatible with most  6

1/63/64/68/75/84/87/96/980/104/108 keyboards

MX stem