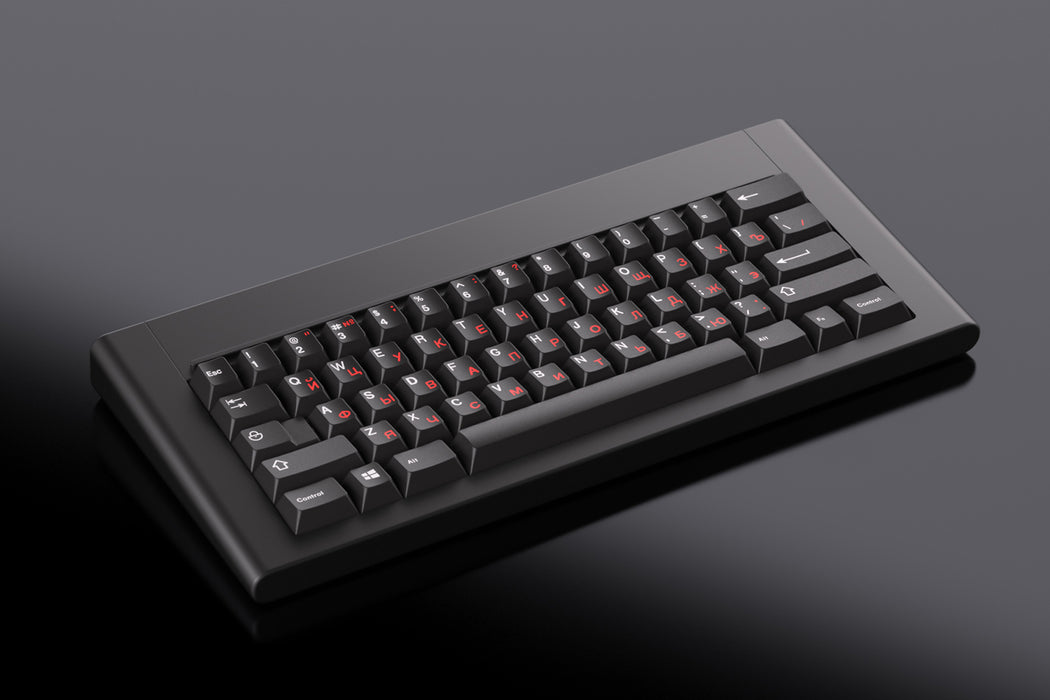 JTK Classic Cyrillic Tripleshot Keycap Set
Sold out
Original price
$97.99
-
Original price
$97.99
Note: This was a group buy. It closed on December 10, 2018. Join the Waitlist to be notified of any future runs!
JTK and zFrontier teamed up to create a revolutionary new product — their Classic Cyrillic Tripleshot keycap set is one of the most exciting mechanical keyboard developments in the past decade. We're offering it to North American customers as a proxy. With that note complete, let's discuss their achievement.
bourgeoisie keycaps, proletariat pricing
Cyrillic keycap sets are universally sought after by mechanical keyboard enthusiasts. Certain variants can easily command more than $400 on various forums and eCommerce sites. Multishot keycaps are also exceptionally rare — most of them are totally incompatible with modern mechanical keyboard switches (if you manage to find any at all). It's crazy to see these Classic Cyrillic keycaps at an everyman-friendly price.
engineered to look sharp
Injection molding is the best way to create razor sharp ultra-long lasting legends. It's also the most complicated way to produce keycaps. Each letter requires unique tooling — or metal molds — for production to occur. Injection molds are wildly expensive to produce, so few companies manufacture new profiles or doubleshot (two types of plastic / color) keycaps on a regular basis.
Tripleshot keycaps are even more complex, as they use three kinds of plastic and extra mold elements. Additional tooling and manufacturing steps send design, manufacturing, and QC costs sky-high. That's why this Cyrillic keycap set is absolutely magical — zFrontier and JTK just made a huge investment in the keyboard community. It's important to recognize that.
why not dyesub?
JTK's Cherry profile triple injection molds, which feature a shine-resistant surface texture, were the best way to make this set. Most companies (like EnjoyPBT) create their Cyrillic legends with dye sublimation or pad printing. Both are viable in the right circumstances, and they're an easy way to make unique designs, but each makes a sacrifice in letter sharpness or durability. Standard dye sublimation is also limited in terms of color scheme. Bright colors on dark backgrounds aren't possible (Keyreative / DSA Groove manage to sidestep this with advanced manufacturing techniques).
Don't miss your chance to own the first-ever modern tripleshot keycaps. This is a truly sensational set.
details
Cherry profile
1.5mm thick tripleshot ABS plastic
Packaging: plastic zipper bags
Two colorway options: White Legends on Black and Black Legends on White + Red Cyrillic Sublegends
compatibility
ANSI layout (60% / 80% / 100%)
Cherry G80-3000, 3494
Leopold FC660M / 980M
WinKeyLess layout
Customized 60% / 65% / 75% / 80% / 100% layouts
MX HHKB layout (Duck Viper / Eagle)
proxies